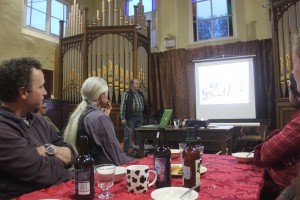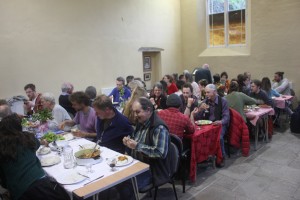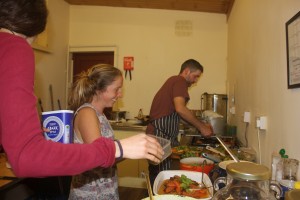 A few weeks back we hosted an event in partnership with Swansea Food Assembly & The Square Peg Cafe. This involved showing the film 'In Our Hands' made by the Landworkers Alliance. Square Peg provided delicious food using our veg & Gower Meadow Beef. The evening was a great success, good fun & inspired lots of discussion.
On the back of this we decided to invite organic farmer & activist Gerald Miles to come & give a talk. Then when our new trainee Abbi said that her & her partner Rhys wanted to cook a veggie feast for our members we decided to combine the two.
So last Friday forty people came & feasted on an amazing three course sit down dinner. 70% were members & as the event was open to non members also.
The dinner was followed by an inspiring & entertaining talk from Gerald sketching out his journey from conventional Pembrokeshire farmer, to organic farmer, to CSA pioneer & international GM activist!!
We will be hosting more Food For Thought events throughout the year. Keep an eye on our facebook account.