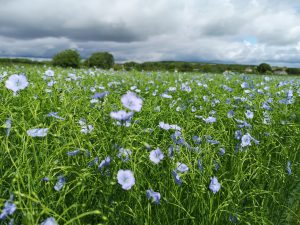 Gower Flax CIC
Post: Project Manager
Salary: £31,250 pro-rata for 30 hours per week
Start date: 18 th August 2021
Deadline: 6pm 13 th August
Interviews: 17 th August
An exciting opportunity for an experienced Project Manager to join Gower Flax CIC on
Gower, South Wales.
Gower Flax is in its first year on its new site – a 2.42-acre soil association approved organic
field.
We are in the process of harvesting the first crop of flax and are looking for someone to take
the lead with the processes that follow. A key aspect of the role will be to build and manage
the community engagement programme. We will work with the rural community, groups,
schools, colleges and universities, sharing the textiles journey from seed to skin.
You will:
– lead all staff and volunteers in delivering training and facilitating the learning of organic fibre
production.
– ensure volunteers have a clear understanding of the task required and correct equipment
and training is given.
– During the summer season – Co-ordinate the flax and dye plant harvest.
On-going tasks will include:
– Applying for funding and reporting back to funders. Ensuring the project is managed within
the framework set out under our funding guidelines.
– Working alongside staff and board of directors to ensure over-all delivery of Gower Flax is
on track, to develop new strategies where necessary.
– Maintain good relationships with landowners, volunteers, participants and local people
including replying to emails, putting out information on social media and hosting events at
the field.
– Develop the education programme in Autumn 2021
– Develop the Creative Retreat programme in Spring 2022
ESSENTIAL EXPERIENCE
● Sound knowledge and practical experience of growing at scale – chemical-free fibre and
dye plants.
Knowledge of regenerative agriculture practices and/or an ability to research and implement
new practices.
● At least two years' experience working with community groups of different abilities and
ages.
● At least two years' experience of managing projects of similar scale and character
Qualified Teacher and experience working within a school environment
● Staff management
● A horticultural qualification or equivalent experience
● Experience of growing in polytunnels
● Excellent Communication skills
● Willing to work flexible hours depending on seasonal requirements
● Able to maintain a healthy and safe working environment, including first aid, safe use of
tools and machinery on the site, adhering to the Health and Safety, Equal Opportunities and
Safeguarding policy requirements
● Driving license and vehicle necessary
● Applicants must be organised and be able to on multiple aspects of the role at one
time. Prioritising workload effectively will be key.
Fluent Welsh speaker necessary
To apply send your CV and a cover letter stating a little about yourself and referring to the
responsibilities, experience and skills listed above, please describe what skills and
experiences you have which would make you a suitable candidate for this post, giving
examples where appropriate, to gowerflax@gmail.com.
This post is part-funded through the Welsh Government Rural Communities -Rural
Development Programme 2014-2020, which is funded by the Welsh Government and
the European Union.
Ariennir y swydd hon yn rhannol drwy Gymunedau Gwledig Llywodraeth Cymru –
Rhaglen Datblygu Gwledig Cymru 2014-2020 a gyllidwyd gan Lywodraeth Cymru a'r
Undeb Ewropeaidd.