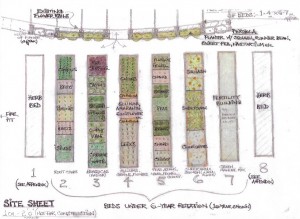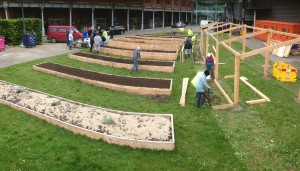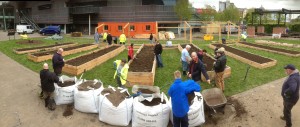 GRAFT – a soil based syllabus
Based at the Maritime Museum in the heart of Swansea. This is a community garden, arts & educational project led by artist Owen Griffiths in partnership with The National Waterfront Museum, NTH/NYA & Cae Tan CSA.
The basic idea is to develop an educational & social resource which can inspire visiting groups & volunteers to grow their own food. Currently we are working with a local primary school and a number of community groups.
The raised beds have just been completed. Tom & Geoff have designed a cropping plan which Geoff has sketched out above. This will incorporate a range of edible herbs, flowers & vegetables.
A pergola is being erected on which we will be growing squash, beans & flowers.
The garden is part of a wider called 'Now The Hero'. This will culminate in September with a celebration in Swansea. At the event 500 people per night will be fed for 5 consecutive nights with squash and other produce grown at Cae Tan & Graft.
We hope that in the long term, this can become a training base for Cae Tan working with town based schools & community groups.
Contacts for the project as follow;
Twitter is @_OwenGriffiths_
Instagram is _owengriffiths
Facebook is @OwenGriffiths
Project Facebook @graft.a.soil.based.syllabus
Project Instagram @graft____
Waterfront Musesum 
@waterfrontmuseum
Cae Tân
Facebook @CaeTanCSA