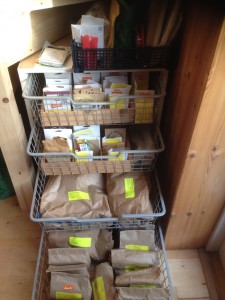 Our crop planning complete for 2018, we have received our seeds & packed them under my stairs ready for this seasons sowing.
The majority of our seed this year is open pollenated & bought from The UK Seed Co-operative. They are a company seeking to bring seed growing back to the UK & back to the growers who buy their seed.
Seed is a critical element of a sustainable food system. Traditionally growers would have saved their own seed each year as a part of the seasons jobs. As we have moved away from saving our own seed, specialists have taken this over & much seed growing is now done abroad & the seed imported. This means that crops are not adapting to our local climates & a potential source of income for local growers has been exported.
Cae Tan are currently joining forces with The Gaia foundation seed sovereignty project. We will be joining other professional growers in April to train with 'The Real Seed Catalogue' in Pembrokeshire, where we will learn seed growing techniques & start on a small scale to grow commercial seed crops.
This adds another small income stream to Cae Tan, whilst preserving both traditional seed saving techniques & locally adapted seed varieties that are available to other UK growers!