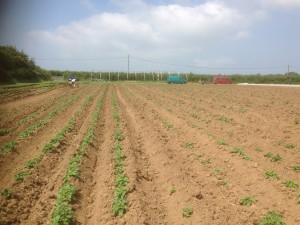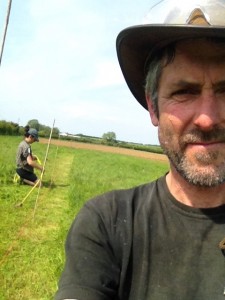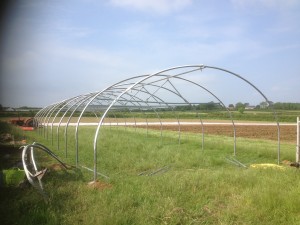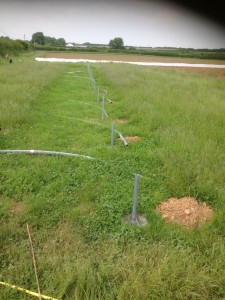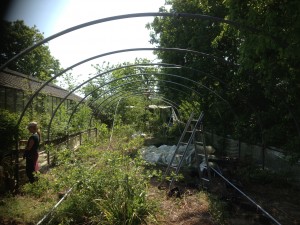 The pictures are in reverse order…..
A massive thankyou to Neil Barry at Swansea Community Green Spaces Project. Also to Dai who donated a tunnel frame to us from the site next door to the Wildflower Cafe.
A series of fortunate co-incidences led to us getting a tunnel in place at Furzehill for Francesca to set up this autumn with her salads & greens.
A couple of months ago one of our volunteers said a friend of hers (Dai) was in the process of selling land at the wildflower cafe near Swansea airport and would possibly let us have a polytunnel frame that needed moving. She rang Dai who happened to be passing & called in 10 minutes later. The tunnel frame was ours when we had time to take it down!
A few weeks later we had an email from Neil Barry of Swansea Community Green Spaces Project. They had £2000 that was set aside for a project to install a polytunnel on another project which had not gone ahead. The funds were from Big Lottery & their preference was to use the money to support a local project rather than return it.
The catch was that we had about 10 days to do this!
So between myself, Abbi, Francesca, Oli & Bob, we managed to get the old frame down & re-erect it in record time…..
We need now to complete the carpentry & the tunnel can be re-covered some time this summer.
Although the tunnel was free it costs us £1500 to get a number of bits of frame that were missing, plus all the carpentry, postcrete etc plus £500 to employ labour to help us. But new this tunnel would cost approx £5000 and thats without the cost of putting it up!
Thankyou to everyone who helped to take it down & put it up. Big thanks to Big Lottery, Dai & Neil!!