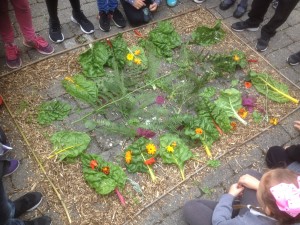 It has been an incredibly busy season, what with it being the first year cultivating our new 5 acre site in Lunnon, TV appearances, 2 new trainees and not to mention the crazy hot, dry summer that we have had!
Overall, it has been a very successful year. We have a bountiful crop of winter veg sitting in the field, including enough roots to last us until April at least. This is something that we would have found hard to believe back in May when they were being sown directly into very dry ground in the baking sun! Due to the weather this summer we have had to invest in irrigation for these crops which has definitely paid off.
All of our Brassica's are looking fantastic, the Brussels seem to be holding a lot better this season so hopefully we will have them for the Christmas Veg boxes this year! Squash and onions were harvested back in late summer and have been stored in one of our Polytunnels. They should last into the New Year! We also have 5 tonnes of spuds stored in a barn close by. This year, we are hoping to be self-sufficient in veg all winter and the majority of spring.
Our tunnels were planted up in succession during September and October with winter salads, which we have already started cropping, these shall go through until May next year, when we pull them out ready for the tomatoes. Also in the tunnels, we have sown over winter broad beans, garlic, and this year we are trying out a few beds of early carrots.
We are delighted to have raised £3000 at this Septembers Harvest Party! We would like to thank everyone for coming along and those who donated the wonderful prizes and their time to the cause! The money will go towards building a barn to provide us with a place to store produce, the tractor and a sheltered packing space at Furzehill.
Together as a CSA we have donated 1150kg of uncollected veg to Matt's Cafe to date. They would like to send a special thanks from the whole team as the donations of veg make a massive difference to their project!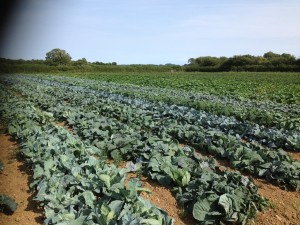 Ecological Land Cooperative
Phil and Lauren, representatives from ELC came along to last weeks AGM to discuss latest plans for the 13 acres at Furzehill surrounding our 5 acres. The ELC are a co-operative, which has been operating for 10 years. They are developing a model of small-scale, ecological agriculture and working towards making it more accessible for new entrant farmers to live and work on their own piece of land. We are delighted to be working alongside them on a pretty amazing project. Please do have a look at the website or get in contact with them if you have any questions about future proposals for the site at Furzehill. http://ecologicalland.coop/
An update from Francesca on her salad's project.
This year I have been busy setting up a salad growing business with Cae Tan. I have been growing mixed salad leaf, chard, edible/cut flowers and herbs, selling to cafes and restaurants in the local area. These customers include Pennard stores, Crumbs, Hoogah, Arthur Neave, Govindas and George Chaplin. A member of Cae Tan, Olly, has been very generously volunteering his time to deliver the salads, he has been an amazing help.
I have been growing on approx a 60m x 10m space on the new site, using hand tools only. We have also put up a Polytunnel, which I have planted up for winter salads. Feedback from cafes about the produce has been really good. They have said that they can't get this quality anywhere else. The customers have been really grateful for the produce and I believe we now have a strong link with these businesses. (A visitor this summer had just come from Prince Charles' garden at Balmoral. She said that Charles garden was nothing on Francesca's!)
To get the project going I have had funding from Nature Save, Natural Resources Wales (NRW) and Cae Tan fundraiser 2017. With this help the project has financially had a good start and has up to now broken even, with a little bit of surplus. The intention is to break even next year without the help of this funding and I am hopeful that this will be possible as there is potential to expand with a lot of interest from other customers. Setting up this project has been a dream come true. It is a lot of hard work, but I love working on the land, in such a beautiful place, with a lovely community of people and I am so happy to have this opportunity. Thank you for your support.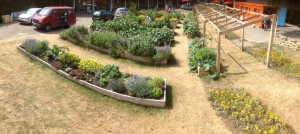 Projects
Unfortunately, we didn't secure funding for the Pizza project in 2018. However, Tom and Laura have continued to work with Pennard school anyway this season. But for 2019 we have been successful in a funding bid & hope to have enough funds to employ someone part time to develop school projects throughout the year. More news on this soon….
Throughout the season Tom and Geoff have been working alongside the Swansea National Waterfront Museum, creating a permanent community garden and workshop at their site in SA1, commissioned by Now the Hero and 1418. They have been working closely with a range of volunteers and St Thomas school who have been for site visits at the land. All produce grown in the garden is donated to projects who make food for those in need across the city. We have also grown squash for them to make a soup for the 2500 people who attended the Now The Hero performances in September.
2018 Trainees
Abbi and Isabel have been a fantastic addition to our team and we are sad to see them go. They have worked hard all season and been a part of all aspects of running the project. Isabel has now returned to Spain and is hoping to return to University to complete her masters. Abbi is now doing some winter work with schools at Swansea Community Farm and looking at farm project positions around the south west. We hope we can keep her in Swansea somehow…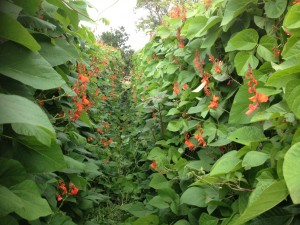 Financial Summary
At the AGM on 8th November Ruth presented financial statements for the year ended 31st March 2018 (2018) which show a small surplus of £142 compared to £147 for the previous year to 31st March 2017 (2017). The big difference in 2018 is that the WCVA grant, which for the last 2 years has paid £1k per month towards salary costs, ended on 31st March 2017. This means in 2018 salary costs for core activities of growing veg for members was fully funded through Cae Tan's own income i.e. members payments for veg shares for the first time.
This is a big step towards securing Cae Tan's future as viable self-sustaining financial model. Whilst membership numbers were not quite as high as forecast we maintained numbers at over 100 and income from veg boxes increased from £37k in 2017 to £44k in 2018. As of last week we are up to 120 households and have started a waiting list for new members. There were some cashflow issues through the Spring this year, mainly due to funding streams being paid quarterly in arrears. This financial year will be less impacted by high seasonal costs through the late Spring as Cae Tan will be buying very little produce now that so much Winter veg has been grown in the new field at Furzehill.
Throughout the growing period of June 2017 to May 2018 we have conducted price comparisons for our veg box. We worked out the average prices from 21 boxes during this period. Our veg is very competitive with other organic options. Also this was done last year. We think the quantites and quality have been even better this season. Here are the results…
| | | | | | |
| --- | --- | --- | --- | --- | --- |
| | Cae Tan | Major Supermarket Organic | Major Supermarket Non Organic | Organic box scheme (minus delivery fee) | Soil Association Farm Shop |
| Large Box | £12.50 | £14.17 | £8.77 | £15.64 | £15.17 |
| Small Box | £7.50 | £7.67 | £4.42 | £7.45 | £7.49 |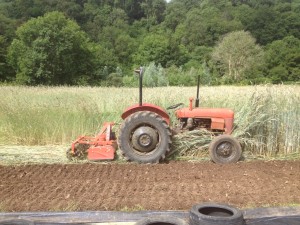 Plans and projects for the next season…
*This year we have been working closely with Soil Advisor Niels Corfield. We are developing a long term rotation plan incorporating a long term green manure system.
*Our annual survey will be available soon, please take some time to complete it as it is really useful to have member input before we begin crop planning for next season.
*We are now accepting applications for our 2019 trainee and are also hoping to have another trainee through EVS. Please see blog on our website for info.
*Please join us for our Christmas get together on the 20th December, this will be at the packing shed with music, mulled wine and mince pies. We will have two weeks worth of veg on the 20th and boxes will resume on the 3rd of January. If you are away for Christmas and would like to donate your veg to Matt's Cafe please contact Clarity on 07870345561 before the 20th December.
………………………………………………………………………………………………………………
Any questions contact tom@217.199.187.190 07791696848
Thank you to all our members for all of your support!
Thanks to our funders who have supported social, educational projects & helped Francesca get set up. Natural Resources Wales, Rural Development Programme, The Ernest Cook Trust, The Naturesave Trust, Swansea Green Spaces.